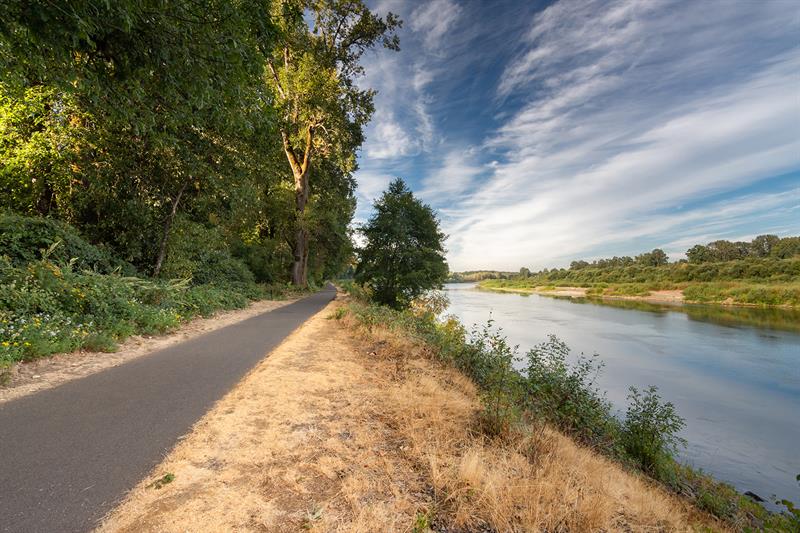 Willamette Slough at Minto-Brown Island Park - map
Nearest town is Salem, OR
The Willamette Slough is a tributary of the Willamette River. The recommended adoption area runs from downtown Salem, past the Peter Courtney bridge and up into Minto-Brown Island Park.
About the Park and Waterway
Minto-Brown Island Park spreads out over 1,200 acres of lush, open, and wooded areas. This makes Minto-Brown Island Park not only the biggest park in Salem, but also larger than Central Park in New York City.
There is a 30-acre, designated off-leash dog area that provides plenty of room for your dog to roam, play, and visit with other dogs. This park also serves as a waterfowl and wildlife sanctuary, which you can enjoy from the observation platforms along the sloughs. Blue herons, ospreys, squirrels, and rabbits are among the many different wetland creatures that call this park home.
Walk, run, or bike any of the 29 miles of trail that make up nine loops. You can also access Riverfront Park via the Peter Courtney Minto Island Bicycle and Pedestrian Bridge. Riverfront park connects to Wallace Marine Park by the Union Street Railroad Bridge.
This river stretch was nominated by Tibby Larson, City of Salem Public Works