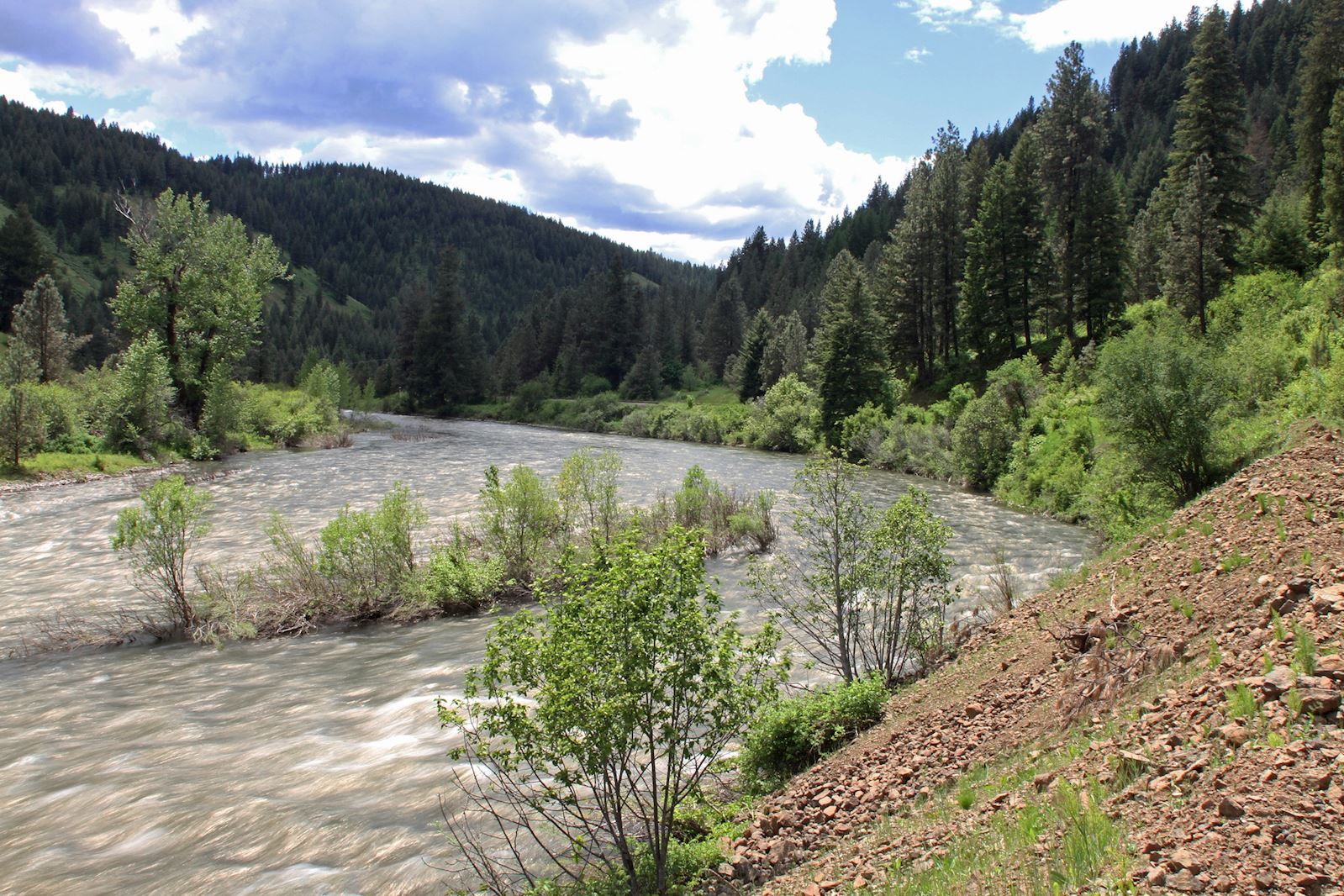 Minam River at Two Pan Trailhead - map
Nearest town is Enterprise, OR
The Minam River runs entirely within the Eagle Cap Wilderness in the Wallowa Mountains, from its headwaters at the Minam and Blue Lakes to the Wallowa River. Visitors can only access the river by hiking or horseback riding the wilderness trails, or flying into Reds Horse Ranch. The ranch is a key feature along the river and was acquired by the Forest Service in the mid-1990s.
The variety in landscapes along the river is dramatic and memorable, from the steep and glaciated upper drainage to the heavily forested U-shaped valley in the middle portion to the deeply dissected basalt drainages of the lower canyon.
Since the entire drainage lies within the Eagle Cap Wilderness, it is an area where natural processes dominate. The diversity of unaltered habitat includes a wide range of solitude-dependent animals, such as wolverine, fisher, Rocky Mountain bighorn sheep, wolf, mule deer, Rocky Mountain elk, black bear, river otter, bald eagle and cougar.
Help keep this river clean and healthy by adopting today! You can make a difference for this watershed and all who depend upon it.
---
About this State Scenic Waterway
The Minam River is a designated State Scenic Waterway between its confluence at Minam Lake and the Wallowa River (50 miles).
Oregon's diversity of river systems contributes richly to our quality of life. Oregonians decided to protect special waterways in 1970 when they voted two-to-one to establish the Oregon Scenic Waterways Program. The program seeks to balance protection and use through cooperation between federal, state, and local agencies as well as individual property owners and those who recreate along a waterway. The program goals include:
Protect the free-flowing character of designated rivers;

Protect and enhance scenic and natural values, recreation, and fish and wildlife

Protect private property rights;

Encourage other agencies to act consistently with the goals of scenic waterways
This river stretch was nominated by Bridget Tinsley, Oregon State Scenic Waterways Program, 541-410-4892