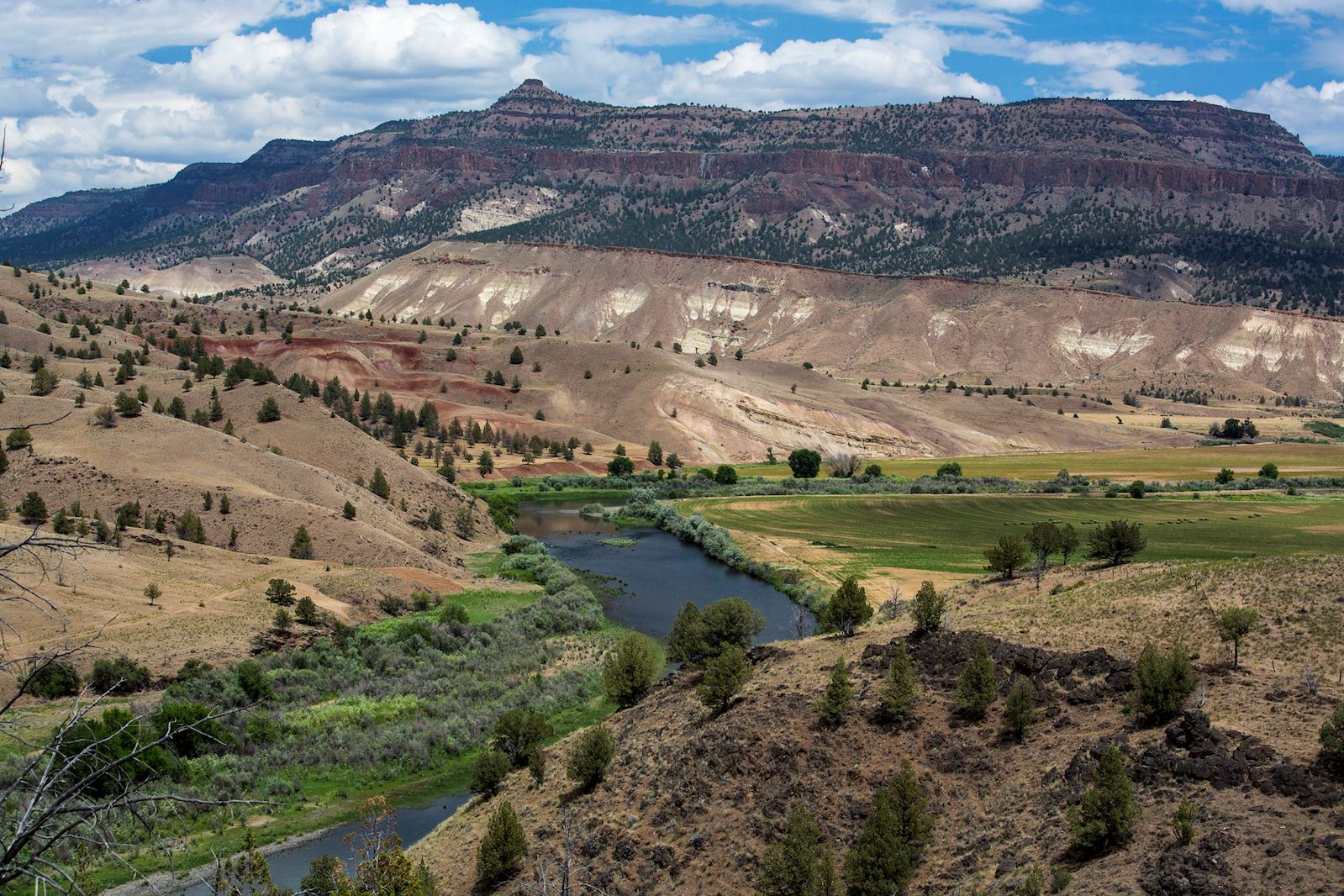 John Day River at Tollbridge Camp Ground - map
Nearest town is Ukiah, OR
The John Day River runs from its headwaters in Malheur National Forest to the Columbia River. It is the longest undammed river in Oregon.
The John Day hosts one of the few remaining wild fish runs in the Pacific Northwest; the summer steelhead and spring Chinook salmon returning for spawning contribute to the largest entirely wild run in the mid and upper Columbia River Basin. Camping, picnicking, fishing, whitewater boating, sightseeing, photography, swimming and wildlife viewing are all popular activities near the John Day. Snowmobilers and skiers make an appearance during the winter months, too.
The variety of fish and wildlife species in the John Day Basin may be more diverse than any other river system in the state due to the diversity of habitats. Notable species include bald and golden eagles, peregrine falcons, red-tailed hawks and ospreys. Herons, Canada geese and a variety of ducks live here, and several species of warbler, vireos and swallows migrate into the John Day Basin to nest. Mule deer are present year-round. Rocky Mountain elk populations have been restored, and California bighorn sheep are becoming re-established. Other common animals are minks, coyotes, bobcats, beavers, western fence lizards, and Pacific treefrogs.
Help keep this river clean and healthy by adopting today! You can make a difference for this watershed and all who depend upon it.
---
About this State Scenic Waterway
The John Day River is a designated State Scenic Waterway between Parrish Creek and Tumwater Falls (158 miles). The North Fork between North Fork John Day wilderness and River Mile 20 (57 miles), the South Fork between Post-Paulina Road crossing and Murderers' Creek Wildlife Area (30 miles), and the Middle Fork between Crawford Creek and the confluence with North Fork (73 miles) are also designated State Scenic Waterways.
Oregon's diversity of river systems contributes richly to our quality of life. Oregonians decided to protect special waterways in 1970 when they voted two-to-one to establish the Oregon Scenic Waterways Program. The program seeks to balance protection and use through cooperation between federal, state, and local agencies as well as individual property owners and those who recreate along a waterway. The program goals include:
Protect the free-flowing character of designated rivers;

Protect and enhance scenic and natural values, recreation, and fish and wildlife

Protect private property rights;

Encourage other agencies to act consistently with the goals of scenic waterways
This river stretch was nominated by Sherri Laier, State Scenic Waterways Program, 541-888-4902 x 245