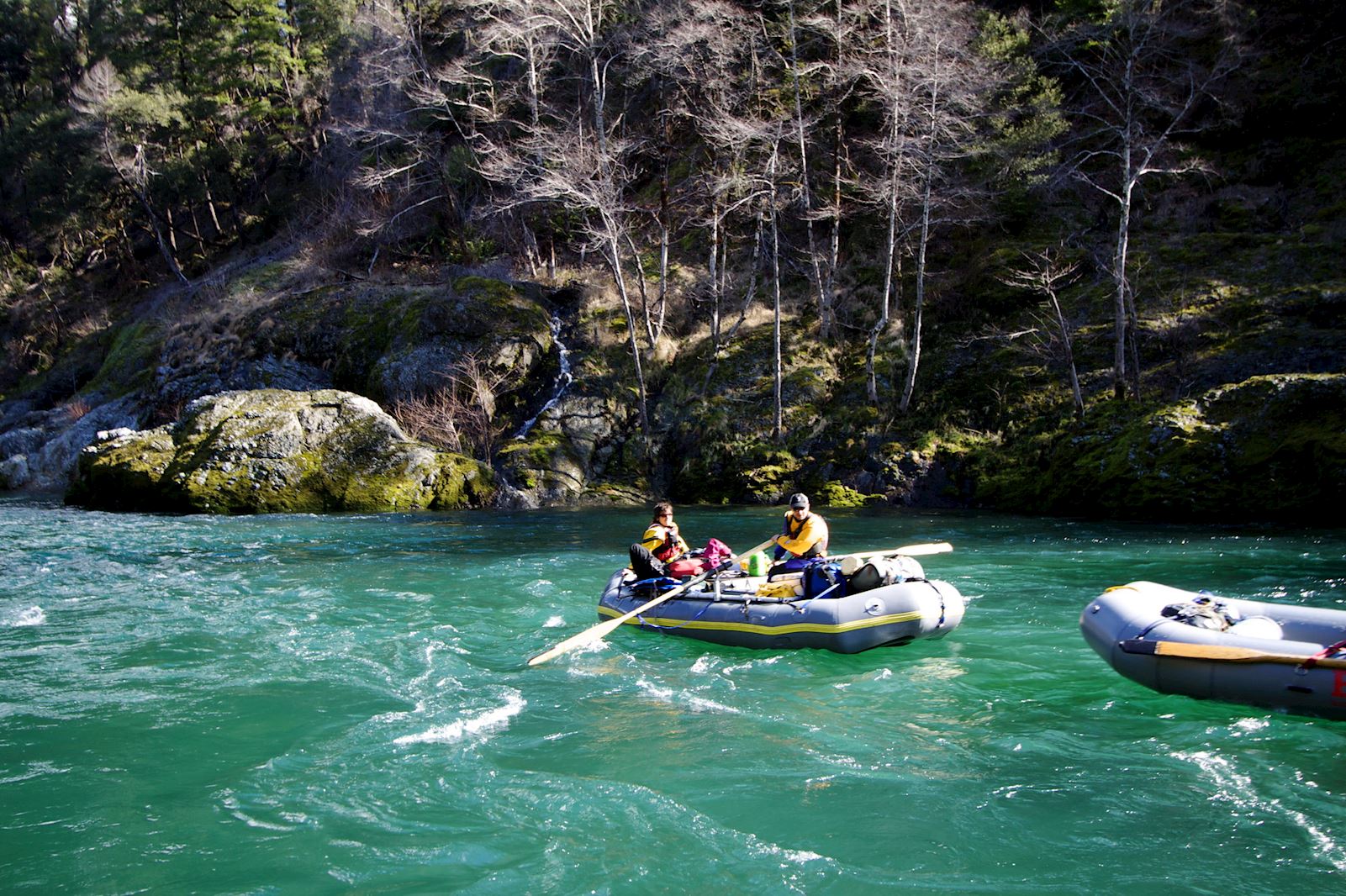 Illinois River at Illinois River Forks State Park - map
Nearest town is Cave Junction, OR

The East Fork Illinois, which runs from its headwaters in the Siskiyou Wilderness of Northern Califronia, and the West Fork Illinois, which runs from its headwaters just North of the California state border, combine at Illinois River Forks State Park. From there, the Illinois River runs through the Rogue River Siskiyou National Forest until it reaches the Rogue River.
The river offers marvelous recreation opportunities, including whitewater that provides plenty of excitement for small rafts and kayaks. One section of the river flows through a steep canyon for 29 miles between Briggs and Nancy Creeks, featuring 150 rapids, of which 11 are Class IV and one, is Class V. This section is reputed to be the most remote, inaccessible river segment in the lower 48 states. Permits for floating the Wild Illinois are necessary year-round, but are not restricted and there is no fee; primary boating season is March through mid-May.
With dispersed camping along the river, please consider adopting a section of the Illinois River. Help keep this river clean and healthy by adopting today! You can make a difference for this watershed and all who depend upon it.
---
About this State Scenic Waterway
The Illinois River is a designated State Scenic Waterway between Deer Creek and the Rogue River (46 miles).
Oregon's diversity of river systems contributes richly to our quality of life. Oregonians decided to protect special waterways in 1970 when they voted two-to-one to establish the Oregon Scenic Waterways Program. The program seeks to balance protection and use through cooperation between federal, state, and local agencies as well as individual property owners and those who recreate along a waterway. The program goals include:
Protect the free-flowing character of designated rivers;

Protect and enhance scenic and natural values, recreation, and fish and wildlife

Protect private property rights;

Encourage other agencies to act consistently with the goals of scenic waterways

This river stretch was nominated by Sherri Laier, State Scenic Waterways Program, 541-888-4902 x 245