Reuse and Recycling Guide
At SOLVE we know everyone can make a difference for our environment when they get started today! Below find tips and tricks for recycling and reuse in your area of Oregon. If you are an event leader, we have a page specifically for events here.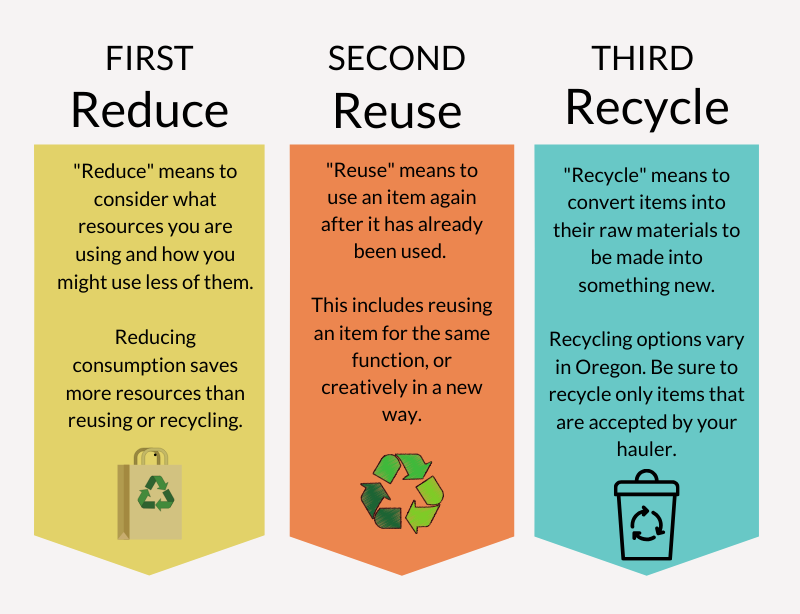 ---
Reduce First
Make a plan to reduce your consumption first. Reducing the items you use will make the biggest positive impact on your footprint. Here are some ideas to get started!
Reduce your energy use by insulating your home and choosing efficient lighting,

Reduce food waste by keeping track of what you have vs. what you need,

Bring your own reusable gardening gloves and bucket to your next SOLVE event, to reduce vinyl glove and plastic bag use.
---
Then Reuse
Give a new life to an old item. Reuse or donate the items you use instead of throwing them away. Below are ideas for donating commonly found items for reuse or repurposing. Please keep in mind that dirty or broken items should not be donated unless expressly permitted.
Reuse Tips by Item
Furniture - The Salvation Army will pick up or provide drop-off locations for furniture in good condition.
Marine Debris - On the Oregon Coast, local artists use marine debris to create art and spread awareness of the problem. Consider donating marine plastics to Washed Ashore or microplastics to Haystack Rock Awareness Program.

Safety Vests - Ask your local schools, churches, or other community groups if they could use your safety vests after your event is done. Maybe the community could share them throughout the year for different events?
Organizations accepting items for reuse are listed by county along with recycling options below.
---
Finally, Recycle!
Conserve resources and reduce pollution recycling whever you are!
We've compiled information on recycling by county to help you wherever you are in Oregon. Select a county from the list below and you will find recycling and reuse options specific to that area.
Happy recycling!
Recycling Tips by Item
Bottles and cans - Return to a local BottleDrop facility or make your recycling a donation to SOLVE by obtaining a bag and sticker from us. Fill the bag with eligible cans and bottles and bring it to the nearest drop center.
Cigarette butts and vinyl gloves - recycle with Terracycle
Electronics - recycle with the Oregon E-cycles Program (can be found at many transfer stations and recycling centers)

Metal - take to a metal recycler (sometimes they are willing to pay you for the metal depending on weight and metal type), recycling center, or curbside

Paper - recycle curbside or at a local recycling center

Plastic jugs - recycle curbside or at a local recycling center

Styrofoam - contact Agilyx for information on styrofoam recycling in the Portland-metro area
Other - donate materials to Scrap Pdx, a creative reuse store
---
Recycling and Reuse by County:
B
---
C
---
D
---
G
---
H
---
J
---
K
---
L
---
M
---
P
---
S
Sherman
---
T
---
U
---
W
Wheeler
---
Y