Your Vision. Your Community.
Since 1993, SOLVE's Project Oregon has been supporting Oregonians in organizing impactful volunteer projects throughout our state that engage volunteers in restoration and cleanup efforts. Projects begin with your vision and take place in your community.
As with all SOLVE programs, Project Oregon supports projects that include litter abatement, the removal of invasive plant species, the planting of native plants, and/or the maintenance of such plantings.
Want to learn how to become a SOLVE leader?
SOLVE offers online training that is required for you to become a SOLVE Leader. The one-hour-long ZOOM training is an opportunity for volunteers who are interested in partnering with SOLVE to lead an environmental stewardship event. This might be a litter cleanup, invasive species removal, or native planting event - anywhere in Oregon. Feel free to register for any of the following events! If none of these times work for you, please reach out to our Community Event Coordinator Emily Berend at emilyb@solveoregon.org.
Anytime, Anywhere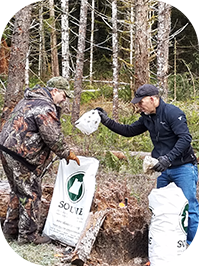 While most events are on Saturdays between 9am and 1pm, any day of the week you will find civic-minded Oregonians looking for ways to improve their local communities.
SOLVE provides help with project planning and volunteer recruitment, a comprehensive planning guide, and project supplies (litter bags, signage for projects, vinyl gloves, safety vests, first aid kits, education boards, and hazardous waste containers). A limited number of small grants are also available for approved supplies.
Oregon's Marine Debris Response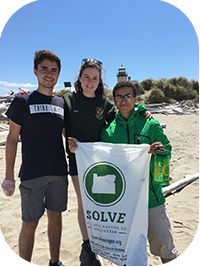 Oregon's beaches need your help year-round! Our coastline is heavily impacted by litter and marine debris during the winter and spring. Storms and king tides bring in tons of debris and a continuous effort is needed to maintain clean and healthy beaches. Want to make a difference for our oceans? Craving a cup of clam chowder? Sign up above as a Project Oregon project leader and SOLVE will help you organize a beach cleanup!
Environmental Restoration in Your Community
Natural area stewardship is an act of love for the environment. Restoration is lifelong in any given natural area and requires the entire community to be involved and invested. If you would like to begin a restoration project, or get involved in one you've seen in your community, we have resources and support to help. Whether invasive weed removal, native planting, or maintenance and monitoring of natural areas; we are here to help your community become invested in the stewardship of Oregon's natural areas.
---
Do you have questions about volunteering at an upcoming event? Call us at 503-943-2835 or info@solveoregon.org
Do you have questions about creating your own event or obtaining cleanup supplies? Contact Emily at emily@solveoregon.org
Please wait...
Upcoming Project Oregon Events